E-Safety and anti-bullying
NSPCC Childline Kids - getting help online
The NSPCC have launched a new area of the Childline website specifically for children under 12. Childline Kids has child-friendly advice on topics from family and relationships to school worries, self-esteem and bullying. It also features games, videos, and friendly illustrations, providing a fun and reassuring, safe space for children online.
Find out more by clicking on the link below
The NSPCC site also contains a vast amount of information to help parents keep their children safe online.
O2 Gurus
Information on E-Safety and Keeping Children Safe Online
O2 and the NSPCC have joined forces to help all families and parents in the UK explore and understand the internet. The O2 Gurus shared useful information and tips with the group to help keep children safe online. The Gurus discussed popular online games and apps, the risks and how these can be reduced.
Share Aware is the NSPCC website with lots of useful information for parents to untangle the web; to teach their children to be Share Aware.
The O2 Gurus are based at the O2 store Doncaster Frenchgate Centre. Parents and children are able to drop in and/or make an appointment for help and advice on using their devices and the internet safely. You may take into store your phone, tablet, iPad, laptop etc. the Guru's will talk you through with a step by step guide. You do not need to be an O2 customer this service is available to users on other networks.

https://www.nspcc.org.uk/preventing-abuse/keeping-children-safe/share-aware/
Azoomee is also a recommended safe app for children's entertainment, for more information visit
Qustodio is an app recommended by the O2 Gurus to help parents to set limitations on their child's online use, restrict time by setting the hours of use, view/track a child's location, guides on how to web filter, block types and contacts, social monitoring and much more.
Net Aware is a website and app providing a guide to the social networks that children use, to help you stay up to date and keep your child safe in today's digital world.

Please search 'Net Aware' in your app store to find out more or visit...
Safer Internet Day - Tuesday 5th February 2019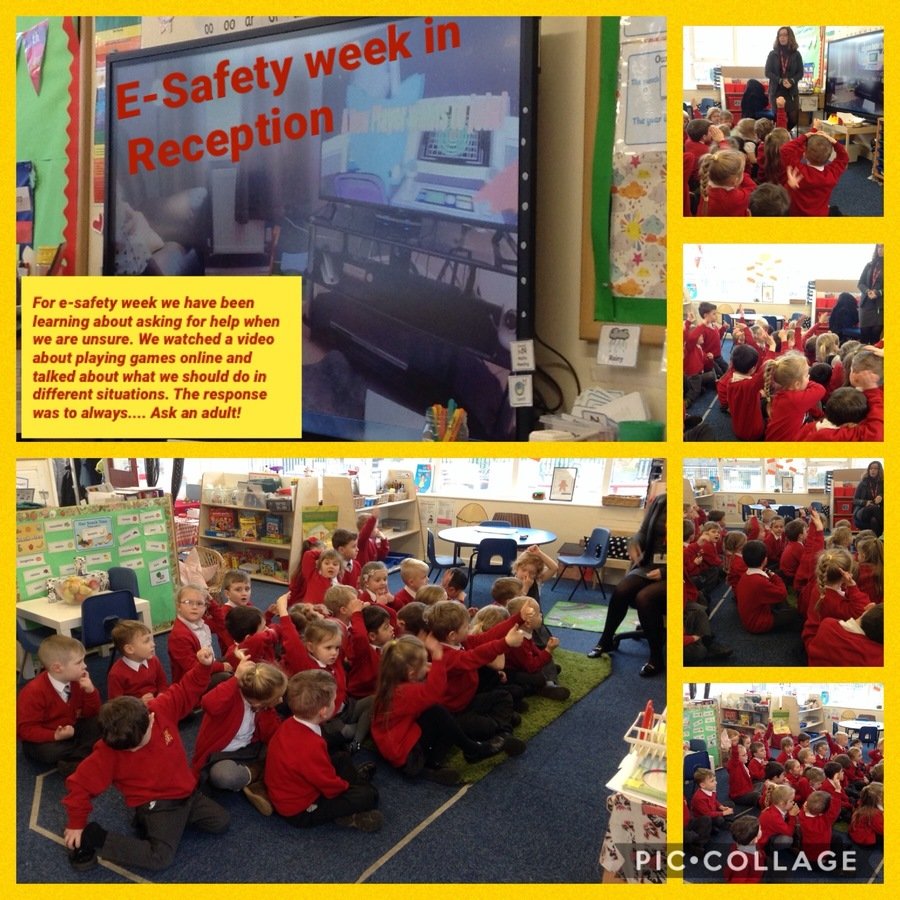 Year 1
Year 1 focused on what to do if something pops up while you are playing a game. They learned with the help of a singing dog called Buddy to tell a grown up if they are unsure what to do. They learned about the dangers of sharing personal information on line and how people are not always who they say they are.
Year 2
Year 2 talked about the internet. The children were very interested to learn that the internet connects us to others all around the world by linking computers, phones and games consoles.
This led to an important discussion about what we can share and what we should keep private.
We played a game called Share it/ Keep it in which the children had to think carefully about information that is either safe or unsafe to share online.
After this, each child cut out a red and green hand. On the green hand, they wrote a list of things they can share online and on the red hand they wrote a list of things they are not supposed to share.
Year 3
In year 3 we discussed what the internet means to us. We talked about what it actually is and how it works. We discussed the different things it can be used for. We had an in depth discussion about the risks that can be faced when playing games such as Fortnite online. We watched a video, which helped to show how easy it could be to share information with someone we don't know online. The children came up with ways to stay safe online, such as only speaking to friends they know in real life and if in doubt speak to an adult at home.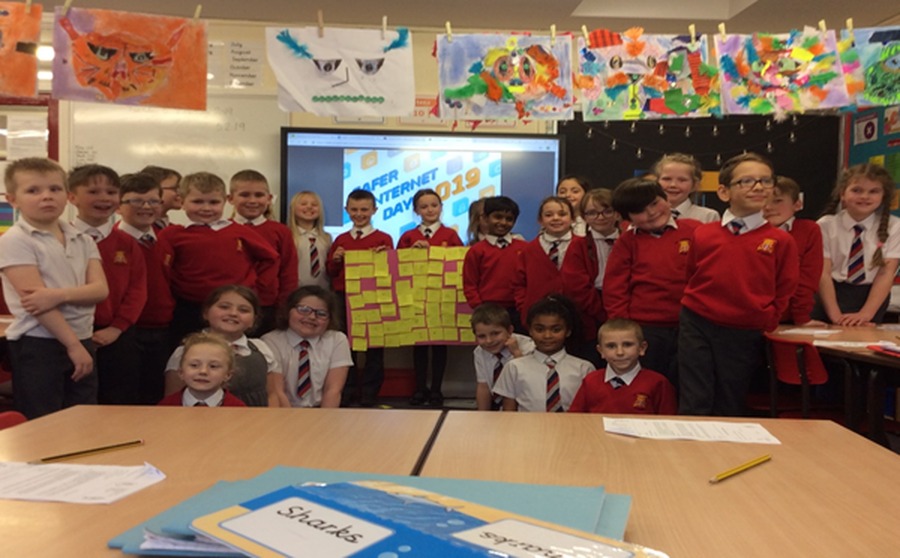 Year 4
In Year 4, we discussed the different ways that we use the internet, and the different things that we need to give consent for. We discussed the different occasions this is okay, the occasions where this would need consent from an adult and also when giving consent can compromise safety on the internet. We then reminded ourselves about our SMART internet safety rules, and created a poster based on what had been discussed.
Year 5
Year 5 started their E-Safety work by discussing the many benefits to the internet. We all agreed that the internet allowed us to look up information, play games, communicate, enjoy music and save time.
We then went on to explore our understanding of what E-Safety and consent meant. The class discussed what it meant to be a good sharer, but they also discussed what information they would not share online. Year 5 watched a video developed by CEOP, which showed them the potential dangers of sharing too much information online. The class then worked in pairs to identify all the ways 'Becky' had failed to protect her identity and the consequences of these actions. Year 5 took the time to share their responses with each other.
In the second session, we discussed ways to stay safe online, and what to do if we felt our safety was compromised. The class designed a poster in the shape of an IPad explaining how to stay safe when using technology.
Year 6
Year 6 dedicated an afternoon to online safety where they explored the different apps, such as twitter, snapchat and Instagram.
The children were honest and reflected on their experiences of using the apps or what they have heard about other people using them. The children showed a good level of awareness on the possible dangers of online apps, such as the security of information, age restrictions, fraud and whether you are talking to unknown online gamers or known friends.
The children created information booklets to warn others on the possible dangers and offer advice on how to stay safe on the internet. They explored what a digital footprint was and understood the importance of thinking before posting as it might be deleted but it can always be found or saved and affect you in the future.
The class looked at the smart rules and designed their own acrostic messages.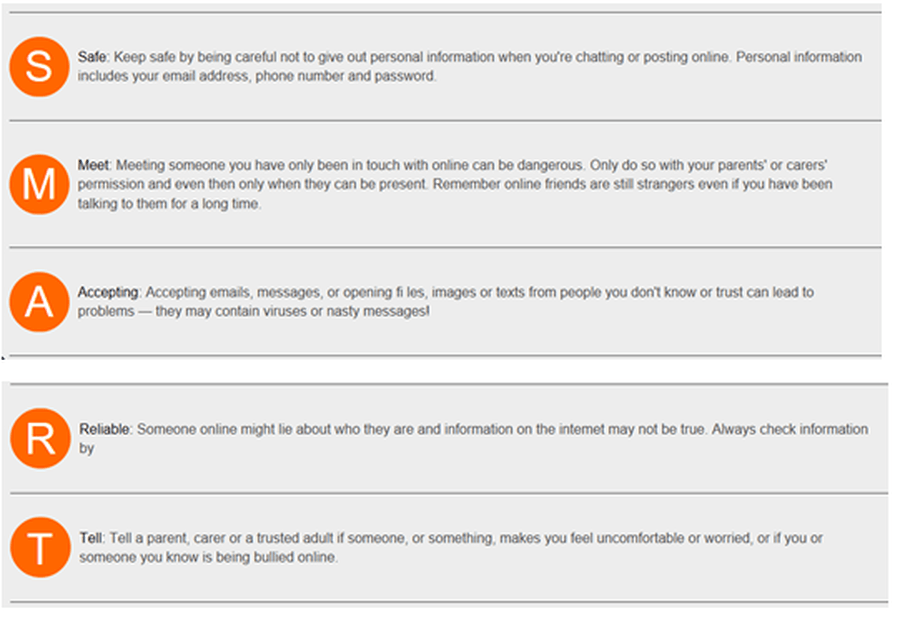 They watched a video link, which showed what a kind and unkind friend might do online, such as post a picture without consent, using offensive language or sending offensive pictures, making threats or doing things in secrecy.
The children used #up2us to make a promise of how they will be kind and make the internet a safer, happier place.
The children took a quiz with different scenarios linked to the above video clip, where they had to respond with the following options: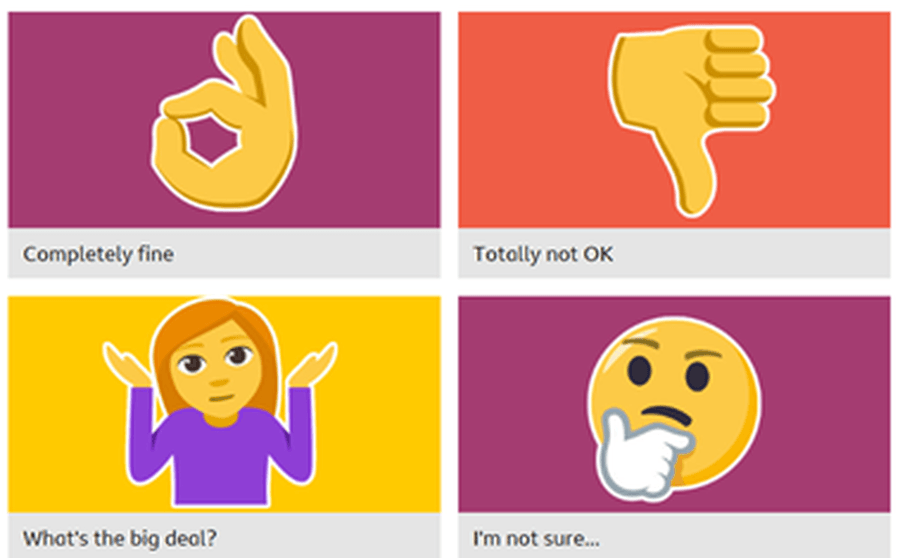 This supported a great debate on different viewpoints and when something could be ok, but might also pose a risk such as not reading the terms and conditions but clicking ok or screenshotting a conversation and sending it to others.
Finally, Year 6 looked at online gaming and how this can lead to upset and inappropriate language or messages. The children designed top tips, such as acting like a coach and encouraging team players rather than criticizing, taking a screen break and switching your comms off.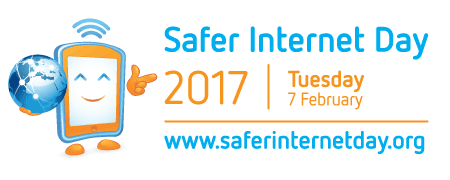 Click here to find out what we did for Safer Internet Day 2017
Below is general information about E-Safety at St Josephs
Please click here to visit our Parents E-Safety Information
Please click here to visit our Children's E-Safety Information
At St Joseph's we want our whole community to know how to keep safe online.
Please have a look at the information on this page, and the side-tabs from the E-safety tab to learn and find out more.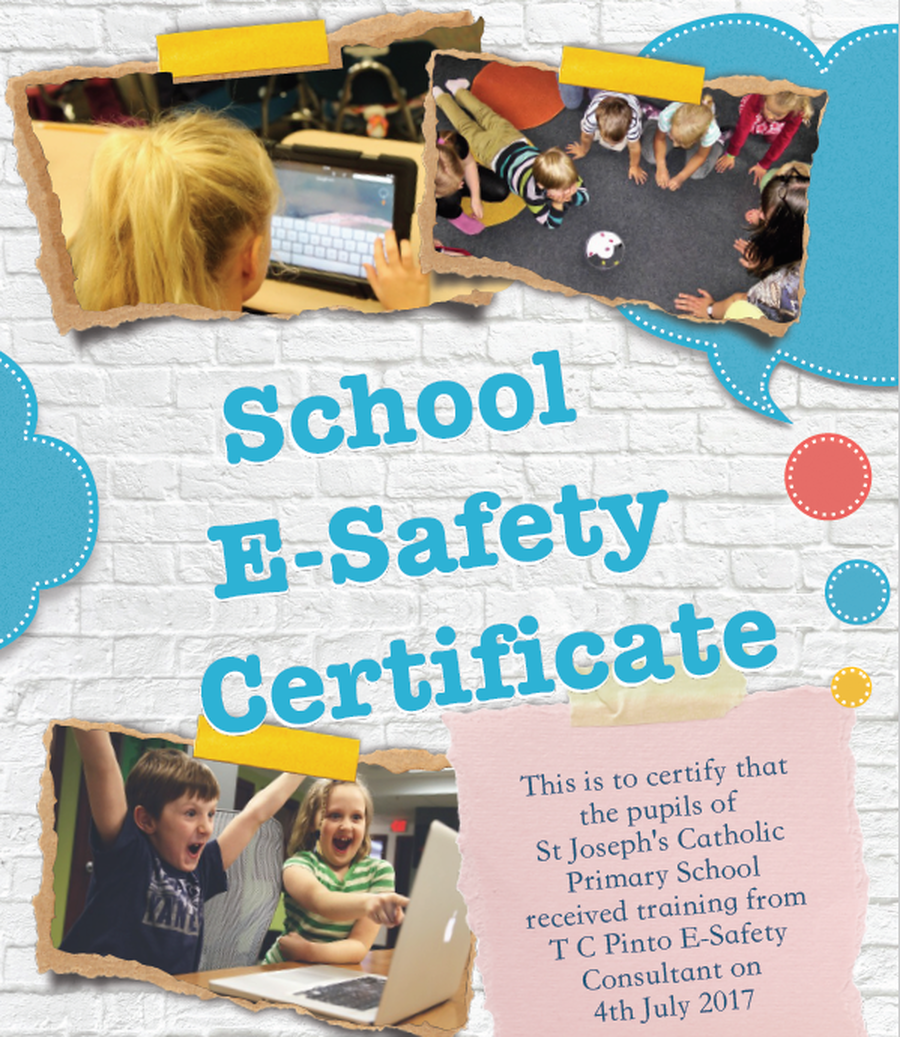 Please see out latest E Safety Letter below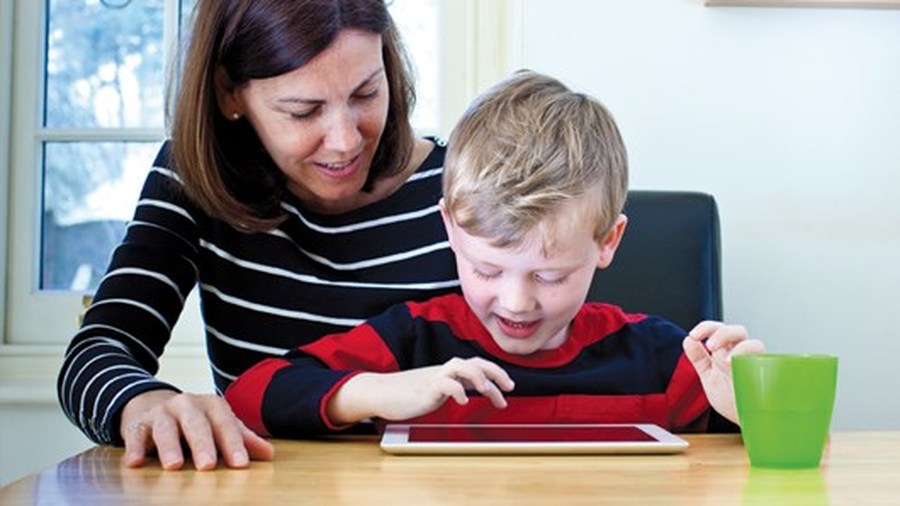 | | |
| --- | --- |
| | |
| | The Child Exploitation & Online Protection Centre |
The internet is a great way to discover, create and connect with people. Issues around the safe use of the internet and cyberbullying are few and far between but they do happen, in all walks of life.
St Joseph's proactively promote e-safety and the prevention of cyberbullying. Bullying in any form has no place at St Joseph's. Our E-Safety team in school can advise all students, parents and governors on e-safety issues. Please use the 'Contact Us' tab to get in touch if you have any queries.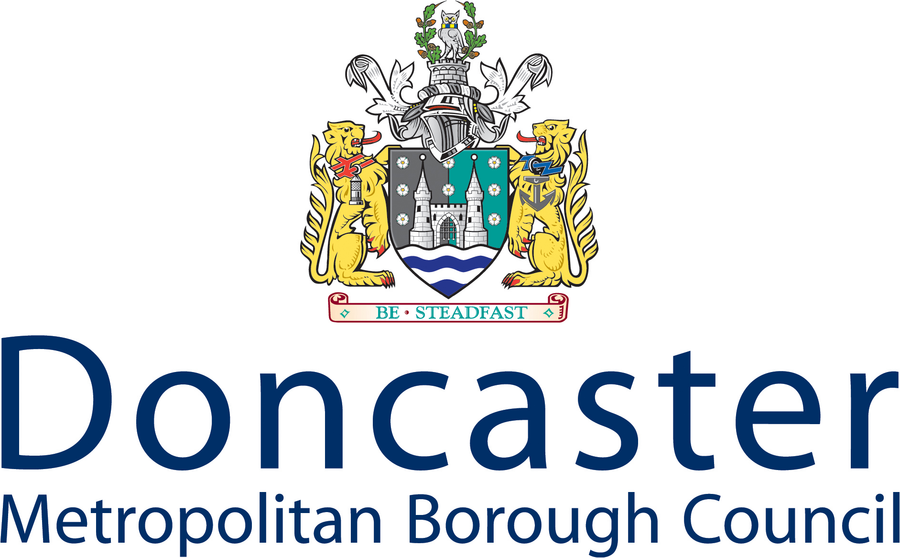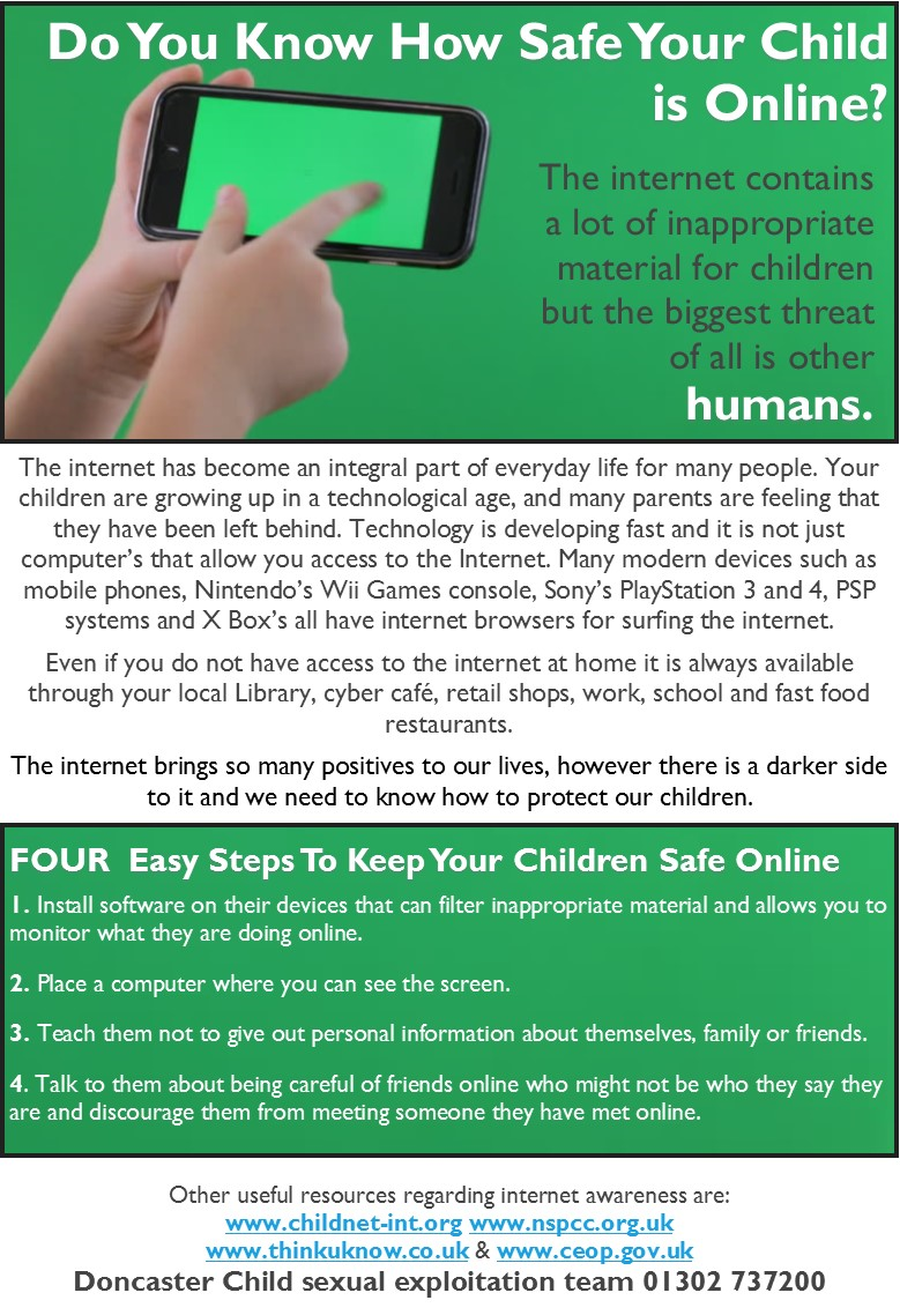 Advice for parents and carers: setting up Parental controls
In addition to parental controls offered by your internet service provider (ISP), some devices, such as games consoles, tablets and smart phones have additional settings. Please read the Parents' Guide to Technology produced by the Safer Internet Centre for more information.
Below are some great websites to help students and parents get the most out of your technology, use the internet responsibly and to keep you and those you care about safe on the internet.
Staying Safe on the Internet
Advice and resources for parents from setting up parental controls offered by your internet provider to parental guides to new technology.
Find out what's good and what's not so good on the internet and what you can do about it.
An interactive internet safety resource. Contains the latest advice on cyberbullying and reporting.
Information and advice to encourage responsible digital citizenship.
Great for children, teachers, parents and carers. Fun games and activities alongside internet safety advice.
Social Networks and Blogs
Parents - understand the positive and creative ways people are using social networking spaces and the potential risks of using these sites and the ways to minimise these risks.
Information about social networking sites and how to use them responsibly, plus advice on preventing and responding to cyberbullying.
Computer Protection
Produced by young people. Explores the issues of internet security and protection with explanations, important information and advice on how to protect a computer from viruses, phishing, scams, spyware and trojans.