Safeguarding
SAFEGUARDING AND CHILD PROTECTION - Covid 19

Despite much of the country being in isolation - you do not need to feel alone. School is continuing to support and safeguard all of it's families and the phonelines will continue to operate during school hours at this time if you need to contact us.

If you are worried or concerned for yourself, or someone else please use the appropriate contacts below:

Where you believe there is immediate risk of significant harm the police should be contacted on 999.

Doncaster Domestic Abuse Helpline - 0808 2000 247 -https://www.doncaster.gov.uk/services/crime-anti-social-behaviour-nuisance/support-for-victims

Childline - https://www.childline.org.uk/get-support/ - 0800 1111

Contact a school safeguarding lead - safeguarding@st-josephs.doncaster.sch.uk

Doncaster social services - https://www.doncasterchildrenstrust.co.uk/worried-about-a-child

For urgent safeguarding concerns please call the Duty team, on 01302 737 777.

There is also family support counselling offered from the Diocese. Should you require this please contact school for further information.
Safeguarding
Safeguarding is Everyone's Responsibility.
St Joseph's School Leaders ensure all staff have up to date training for Safeguarding and Prevent.
We have a nominated Governor who works closely with the Safeguarding Team.
Our Governors also have received Prevent Training through our WRAP 3 trained member of staff, Mrs Courtney.
Do you have a safeguarding concern?
If you have any safeguarding concerns regarding a pupil at St Joseph's, please send your name and a contact telephone number to safeguarding@st-josephs.doncaster.sch.uk
A member of the safeguarding team will contact you as soon as possible to discuss any concerns.
Please do not explain the concerns in the email.
You can also contact the school on 01302 868098
If no school staff are available, or you wish to report concerns directly to the Doncaster Children's Safeguarding Board, anyone can report concerns using the DCST 'One Front Door' Referral system. Click here to be taken to the 'One Front Door' Referral Page.
Serious concerns can be reported to the DCSB Duty Team on 01302 737777.
Where you believe there is immediate risk of significant harm the police should be contacted on 999.
Click the links to view:
Keeping Our Children Safe
Safe Touch Certificate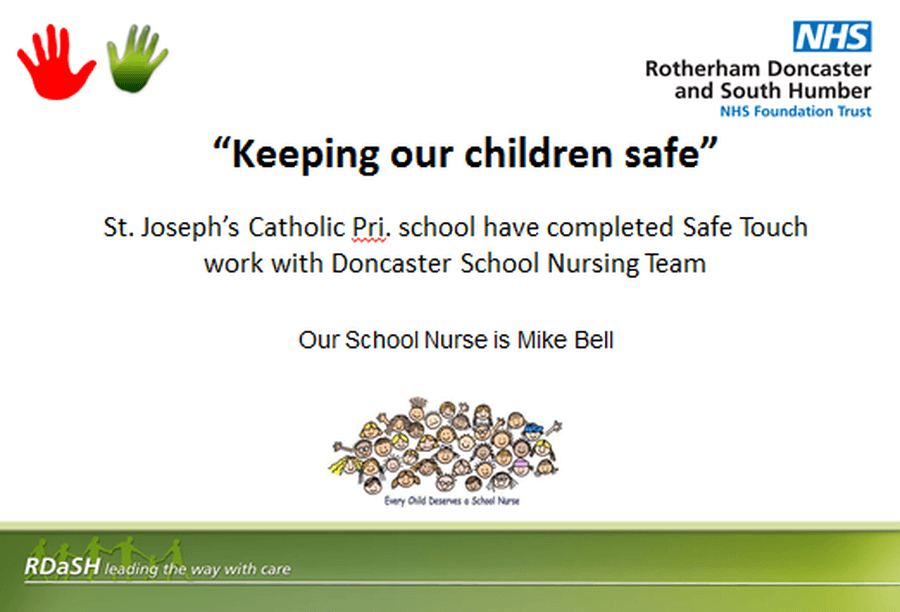 At St Joseph's, we use an online safeguarding, behaviour and information log called CPOMS. CPOMS can only be fully accessed by the safeguarding team, and is a very secure and safe way to store information. If you would like to discuss the information we keep, or have any further questions, please make an appointment to see one of the safeguarding team.
EARLY HELP TEAM DONCASTER
Early Help is a way of thinking and working together as services with families that have additional or more complex needs. Early help can prevent problems from getting worse by providing support to families when a need is identified or as soon as a problem emerges.