Year 6 Leavers Present 2019
Thank you very much to our wonderful Year 6 children and parents for their amazing gift to celebrate the children moving on to their secondary schools. The sign for the front of the school is a lovely way to welcome people to the school and a great way to remind us of you all everyday as we come in.
Dance and Gymnastics Performance 17th July
Giraffe Caf - Monday 8th July
Thank you to everyone who attended Year 1 Giraffe Caf.
You helped raise £30.63 and Ellish is ours for the year!
Thank you so much for your support.
The Extreme Reading Challenge - Summer 2019
The challenge has been set. Are you an extreme reader?
Books don't need electricity!
We can read them anywhere and everywhere!
We are inviting you ALL (including parents) to take the St Joseph's Extreme Reading Challenge.
Think about different, exciting, fun and SAFE places you can enjoy a book.
Children - tell your parent/carer your idea and ask them if they could take a photograph of you reading your book in your 'EXTREME' place and send this in to us via class dojo
Have Fun Extreme Reading!!
Challenge Accepted!
Sponsored Walk - Friday 28th June
We all had a fabulous afternoon out in the sunshine, walking and running together as a school for our sponsored walk. It was so lovely to see the older children looking after and encouraging the younger ones. Water bottles, sun hats and cooler tree shaded areas to rest and a drink station for those without water bottles, kept us safe in the sun.
Well done everyone for a wonderful event!
Please can all sponsor money be handed back to school within the week.
Thank you :-)
What's Under Your Feet?
What's Under Your Feet has been our third campaign this year the school have participated in for Eco-Schools. During this campaign the pupils have had the chance to be citizen scientists and carry out some important fieldwork for the British Trust for Ornithology. Each class took part in a class dig to collect soil samples and find soil invertebrates. We then recorded our findings and have uploaded the data from our experiments.
Year 5 – What's Under Your Feet Campaign (WUYFC) 06/06/2019
As part of the WUYFC, Year 5 undertook a geography field study. They started the process by exploring their understanding of field work, and they worked in groups to write questions that they wanted to find out before they went out to collect data. Their field work was based on exploring what types of invertebrates inhabit their local environment (the school field). Year 5 were very interested in finding out the amount of species on our school field, the variety of species we have and which parts of the field mini beasts like the best. Once they had completed their questions, they began to collect field data by practicing their mapping skills and creating tally charts. While they worked in groups, Miss Vickers allowed small groups to sift through a soil sample in search of worms. Unfortunately, Year 5 only found 4 worms, but they did find a rather large quantity of red ants. After they finished their field work, Year 5 created a bar graph to display their findings, and they also wrote up what they found out from their field research. The whole class agreed that it is really important to be aware of which mini beasts are living in our local environment in order that we can work to protect them and look into ways to encourage even more to choose it as a habitat.
NED's MINDSET MISSION 27/06/2019
St Joseph's were treated to a performance from NED who came to teach the children about his mindset mission. Throughout the performance, the children discovered how to activate their growth mindset to overcome social, emotional and academic challenges.
NED's mission was simple.
Through the use of puppets, acting, humor and yo-yos, St Joseph's were entertained and inspired to not let anything stand in the way of their dreams.
St Joe's Design a Bridge Competition 21/06/2019
The whole school was set a simple bridge building challenge, which would promote the learning of different styles of bridges and focus on famous civil engineers. Every class teacher selected a civil engineer to research and draw inspiration from for their bridge design. The chosen civil engineers were:
Reception – Sarah Guppy
Year 1 - Isambard Kingdom Brunel
Year 2 - William Christopher Brown
Year 3 - Gustave Eiffel
Year 4 - Joseph Strauss
Year 5 - Thomas Telford
Year 6 - Santiago Calatrava
In addition to selecting a civil engineer to research, every class had a design brief to follow. The design brief for the whole school was:
The bridge must be free standing

Use only recyclable materials

Carry weight (a thesaurus)

Draw inspiration from a famous bridge design

Allow a small toy car to travel across it.

Be aesthetically pleasing.
Through the course of the day, each class had to design, create, test and evaluate their bridges. At the end of the day, each class brought their design to a special assembly where their bridges were tested by the chief engineers (Miss Vickers and Mrs Kelly!) We were absolutely delighted to discover that every class was able to produce a bridge, which met the design brief.
Summer Raffles 2019 - Winners
A message from Richard Lewis our Stronger Communities Officer (Rossington)
Many thanks for letting the Children get involved with the Operation Duxford DSD session we did outside St Josephs last Thursday.
Of the 82 vehicles that passed us during the hour we were there only 2 were travelling over the speed limit.
The DSD has a proven effect on the speed vehicles are travelling, particularly when children are assisting with the operation.
On behalf of the South area team and South Yorkshire police please pass on my thanks to all those involved. As always the behaviour of the children from St Josephs was exceptional and they are a credit to school and themselves.
First Holy Communion 16th June 2019
Congratulations to the 10 children who celebrated their first holy communion on Sunday.
They all looked so smart and beautiful. Thank you to everyone who helped to arrange the mass.
Lunchtime Librarians
The children are really enjoying using the library during their lunchtimes to share books and their love of reading!
Key Stage 2 After School Reading Club
The children are now in their second week of the reading club and they are thoroughly enjoying it so far. All of the children are extremely enthusiastic about reading and supportive towards each other.
This week they used dictionaries and different reading strategies to learn unfamiliar vocabulary they came across in their reading books. They could not wait to take their words and sentences home to test their family members!
Road Safety
On Thursday 13th June, we were invited to join Richard from the Stronger Families team, to take part in a road safety exercise. We tracked the speed and type of vehicles that passed the school. If the driver was travelling within the speed limit, a smiley face was shown. If not, a sad face.
Richard was very impressed with the group of children who took part and said they did an amazing job!
Sunday 9th June - Doncaster Half Marathon
Sheffield Hallam University Book Club Trip
On Tuesday 4th June the Year 5 children who took part in an exciting club for 6 weeks ran by Sheffield Hallam University went there for a visit. On the trip they watched a Quasimodo performance, received another free book, had a university campus tour and received a certificate. They even tested out the microphones in the lecture theatre! The children thoroughly enjoyed their visit and they continue to love reading which we believe is absolutely vital. Thank you SHU for all of your support and resources.
Library Rota for Summer Term 2
The days have stayed the same as summer 1 term
Year 6 Modelling and Relaxing
Year 6 Baking Activity
Last week some of the year 6 pupils enjoyed baking chocolate muffins and scones :-)
Year 6 Gardening Activity
The Year 6 children in school today have been busy gardening in the school quad area.
Year 6 Kingswood Residential
Year 6 are having a fabulous time so far and had a settled night.
This evening, they have had a lovely meal and then spent time together with a camp fire and hot chocolate. Miss Marsden said they are very tired after an exciting and busy day! :-)
Design a Badge Competition
3 new librarians were chosen from each house team during the last house team meeting. We have decided to have badges made for these children and asked the children to create a design for them. The best design from each year group won a prize and the overall winner was chosen from these entries. Their design will be made into a badge that the librarians will wear.
Here are the winning designs from each class!
The winning design which will be made into a badge for the librarians to wear!
Children's University
St Joseph's is looking for four parents to become ambassadors for the Children's University project. This is a National project aimed at supporting children to develop different and new skills as they move through Primary and into Secondary school. Information posters will be around school if you would like further information on what this entails, or please speak with your class parent ambassadors. Mrs Kelly, Mrs Robinson and Miss Rodgers will also be available should you wish to discuss this any further. This is a great opportunity to help support and develop the children at St Joseph's as they move through their school career.
If you are interested in becoming a Children's University ambassador then please let the staff in the office know by Wednesday 22nd May. Interested parents will be invited to a coffee morning with the lead from the Children's University to discuss the project and ways forward on Friday 7th June at 9am.
We thank you for your continued support and hope that you will relish the opportunity to be a part of this new and exciting project at St Joseph's.
St Joseph's librarians
We now have new librarians which were recruited in the latest house team meeting, so that there are representatives from each team (St George's, St Andrews, St David's and St Patrick's). They are now in a special role on a rota to be a librarian twice a week – once in the indoor library and once in the outdoor reading area. The librairans are responsible for:
Reading stories and recomending books

Helping children find books of their interest

Setting up and tidying up both reading spaces

Logging out which books children wish to take home to read

Promoting a love of reading themselves
COMMUNITY LITTER PICK
A group of volunteers in Rossington did a litter pick on Sunday!
7 volunteers, including some members of the St Joseph's School Community, spent 2 and a half hours collecting litter from Gattison Lane and also the 'no man's land' in front of school, 9 bags of rubbish were collected in total!
PLEASE help us to keep our community tidy by disposing of rubbish in a responsible way.
Thank you so much to the volunteers for helping to keep our community clean!
Natalie Kelly
Headteacher
SUMMER TERM – Y3 DEBATE CLUB (FRIDAY AM)
In year 3, we have been invited to join a nationwide project which is introducing debating to school children centred on a variety of different topics. . The children learn about these topics, this week the question was, ' Should we have a 3 day weekend?' Year 3 were largely in favour of a 3 day weekend primarily because they would get to spend more time with their families.
Doncaster Marathon Assembly - Wednesday 1st May 2019
On Wednesday, we were visited by the 'Curly's Athletes' Team who told us all about the Doncaster half marathon which is taking place on Sunday the 9th of June. The marathon will be coming past St Joseph's School! The children met Donny Dog and Parky the Lion who helped us all get motivated by sharing some activities to get warmed up. Over the next few weeks, we will be planning activities to celebrate the marathon. More information will be sent via the app.
STRONGER FAMILIES – THE GREAT BRITISH SPRING CLEAN
Today, a group of KS2 volunteers, including our Eco-Warriors, met with Richard from the Stronger Families team. The aim of the session was to learn more about our environment and how we can look after it. After speaking to the children about recycling, the team went out to pick as much littler as possible from the area around the grounds. They then looked at how much of what they had collected could be recycled! Well done!
Doncaster Family of Catholic Schools
In December 2018, the children at St Joseph's were asked to design a new logo for the Doncaster Family of Catholic Schools.
During the spring term, the Headteachers from the family of schools met, and picked their favourite entries. These will be passed to sixth form students at McAuley to contribute to the design of a new logo.
The Headteachers noticed the motto added to one of the logos; they felt it represented the work of the family perfectly, and have chosen 'Learn, Live and Shine in the Spirit of Christ' as the Family of Schools Motto!
Well done and thank you to all the children who took part.
Go Orange For Olly Muscle Dystrophy
Thank you for all your kind donations.
Move More Challenge 8th March 2019
World Book Day 7th March 2019
Congratulations to our winners of the best dresed in each class. They all received a prize of their very own book!
We all loved showing our costumes to each other in the whole school parade.
Here are all of the classes:
We loved our class swap where children read a book to each other. Most children voted that they would like to do this more often, and this was their favourite part of the day, so this is something we will build in more regularly.
We also shared a book with a mystery reader. Each class had a different teacher to read them a story as a surprise.
Wild Science February 2019
In the head up to science week, we had a visit from Wild Science who brought in a range of creatures from reptiles to amphibians and invertebrates. The children in years nursery to year 4 had the opportunity to hold these creatures and find out everything they wanted to know about them.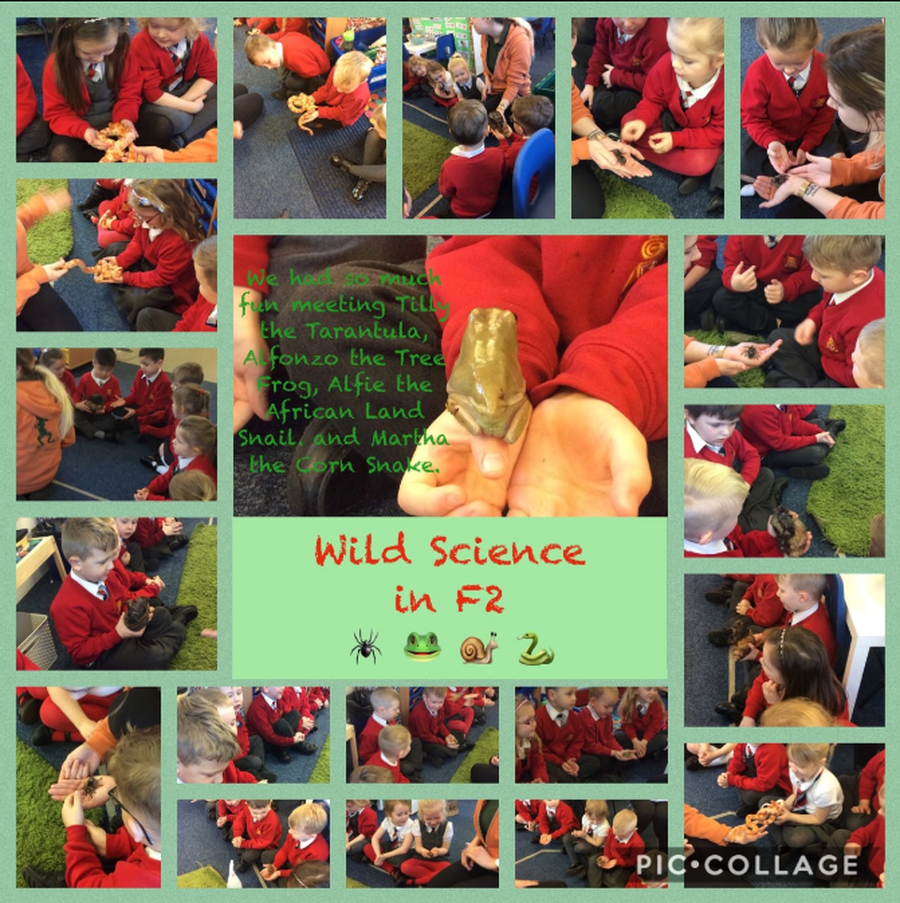 Christmas Jumper Donations - Thank you
Jeff Rich - Drum Master Class Thursday 28th February 2019
On Thursday 28th February St Joseph's held a drum masterclass with Jeff Rich, the drummer from Status Quo. It was a very unique experience and was enjoyed by all who attended. The workshop was split into two sections, Key stage 1 and key stage 2. Section 1 (KS 2) were told about the history of the drum, how it developed from Africa right through to the modern snare drum. Children were invited up to play different drums. This happened throughout the session and the whole workshop was hands-on. Section 2 (KS 1 & 2) deals with the drum kit, how it functions etc. Again children were invited up to play parts of the kit. Jeff then played a solo to show how versatile the kit can be. After the solo, children were invited up to play percussion with Jeff. There were 200 pieces of percussion available to play with in the workshop. As you can see from the pictures that it was enjoyed by all.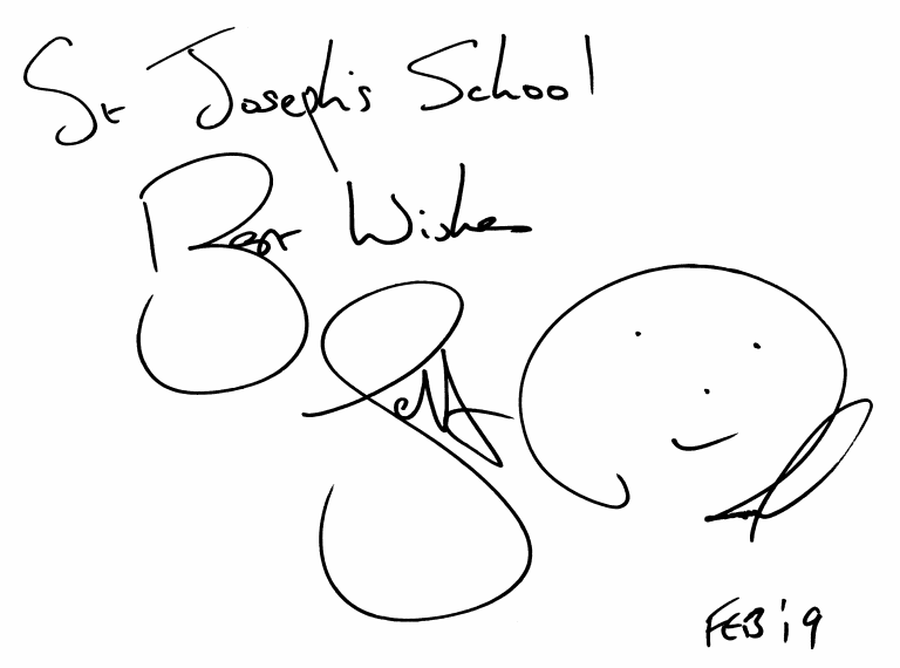 E-Safety
Here is what the children did in school for E-safety
Year 1
Year 1 focused on what to do if something pops up while you are playing a game. They learned with the help of a singing dog called Buddy to tell a grown up if they are unsure what to do. They learned about the dangers of sharing personal information on line and how people are not always who they say they are.
Year 2
Year 2 talked about the internet. The children were very interested to learn that the internet connects us to others all around the world by linking computers, phones and games consoles.
This led to an important discussion about what we can share and what we should keep private.
We played a game called Share it/ Keep it in which the children had to think carefully about information that is either safe or unsafe to share online.
After this, each child cut out a red and green hand. On the green hand, they wrote a list of things they can share online and on the red hand they wrote a list of things they are not supposed to share.
Year 3
In year 3 we discussed what the internet means to us. We talked about what it actually is and how it works. We discussed the different things it can be used for. We had an in depth discussion about the risks that can be faced when playing games such as Fortnite online. We watched a video, which helped to show how easy it could be to share information with someone we don't know online. The children came up with ways to stay safe online, such as only speaking to friends they know in real life and if in doubt speak to an adult at home.
Year 4
In Year 4, we discussed the different ways that we use the internet, and the different things that we need to give consent for. We discussed the different occasions this is okay, the occasions where this would need consent from an adult and also when giving consent can compromise safety on the internet. We then reminded ourselves about our SMART internet safety rules, and created a poster based on what had been discussed.
Year 5
Year 5 started their E-Safety work by discussing the many benefits to the internet. We all agreed that the internet allowed us to look up information, play games, communicate, enjoy music and save time.
We then went on to explore our understanding of what E-Safety and consent meant. The class discussed what it meant to be a good sharer, but they also discussed what information they would not share online. Year 5 watched a video developed by CEOP, which showed them the potential dangers of sharing too much information online. The class then worked in pairs to identify all the ways 'Becky' had failed to protect her identity and the consequences of these actions. Year 5 took the time to share their responses with each other.
In the second session, we discussed ways to stay safe online, and what to do if we felt our safety was compromised. The class designed a poster in the shape of an IPad explaining how to stay safe when using technology.
Year 6
Year 6 dedicated an afternoon to online safety where they explored the different apps, such as twitter, snapchat and Instagram.
The children were honest and reflected on their experiences of using the apps or what they have heard about other people using them. The children showed a good level of awareness on the possible dangers of online apps, such as the security of information, age restrictions, fraud and whether you are talking to unknown online gamers or known friends.
The children created information booklets to warn others on the possible dangers and offer advice on how to stay safe on the internet. They explored what a digital footprint was and understood the importance of thinking before posting as it might be deleted but it can always be found or saved and affect you in the future.
The class looked at the smart rules and designed their own acrostic messages.
They watched a video link, which showed what a kind and unkind friend might do online, such as post a picture without consent, using offensive language or sending offensive pictures, making threats or doing things in secrecy.
The children used #up2us to make a promise of how they will be kind and make the internet a safer, happier place.
The children took a quiz with different scenarios linked to the above video clip, where they had to respond with the following options:
This supported a great debate on different viewpoints and when something could be ok, but might also pose a risk such as not reading the terms and conditions but clicking ok or screenshotting a conversation and sending it to others.
Finally, Year 6 looked at online gaming and how this can lead to upset and inappropriate language or messages. The children designed top tips, such as acting like a coach and encouraging team players rather than criticizing, taking a screen break and switching your comms off.
Waste Week 4th March 2019
Waste week starts on Monday 4th March and our focus is a plastic free week.
Did you know 95% of plastic packaging is wasted after a single use?
Next week we are going to be taking part in a plastic-free week during our Waste Week campaign.
We need everyone's support in helping our school avoid single use plastics for a whole week. You can help by using reusable bottles and plastic containers for food and drink and by avoiding those single use plastics. Together let's make a difference.
Thank you.
Sheffield Hallam University book club which ran in Autumn 2 term for 6 weeks with a number of Year 5 pupils
Holocaust Memorial Day - 25th January 2019
On Friday 25th January Pastor Eric Simpson took 6 children from St Joseph's to join him and other school children at the memorial event at Doncaster Museum. They had chance to see and hear from survivors and relatives of the Holocaust.
We are absolutely delighted that they have been recognised for their significant contribution to the Holocaust memorial event and that they have had the opportunity to learn about and preserve the memory and testimony of the Holocaust.
Thank you to our school nurse Mike Bell and our Education Welfare Officer (EWO) Julie Vaughn for joining us for the spring parents evening. During parents evening, Julie and Mike shared information to support our families and gave away resources.
If you would like any further information or support from the nursing service or regarding attendance, please refer to the school website or contact the school office.
Here is our choir practicing their beautiful singing with Mr Storey ready for the Christingle Service on Tuesday 18th at 6pm.
Converting media.
(Media will continue converting in the background)
Miss Marsden has entered our school into a competition for the fantastic opportunity to have a child's book published by a graphic designer at Sheffield Hallam University. All entries from our children must be handed into school by Monday 17th December 2018. Good luck!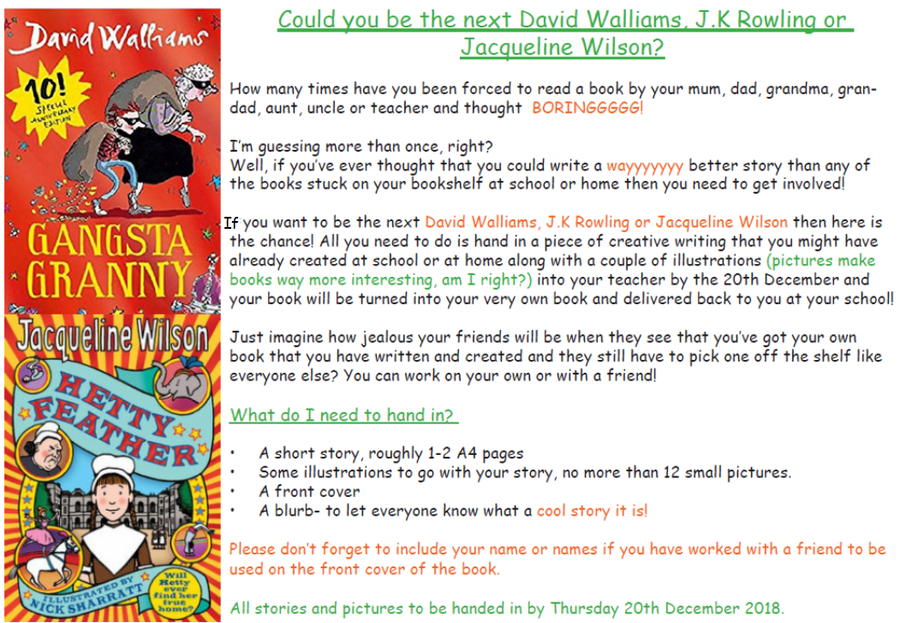 The Doncaster Family of Catholic Schools - A Celebration of Catholic Education led by The McAULEY Catholic High School and Sixth Form
Eucharist November 2018 i18 Special Edition
Reception
Reception have been learning about how poppies help us to remember. We have all created poppies in different ways.
Year 2
We have learnt about why poppies are worn to remember our fallen soldiers as well as what each part of the poppy symbolises. We then marked our respect by painting fields of poppies whilst listening to WW1 music.
Year 3
In year 3 we discussed remembrance and why the poppy is its symbol. We then used chalk pastels to create a field of poppies.
Year 5
In class, Year 5 had a discussion about the importance of Remembrance Day. We discussed the importance of the date, the symbol of the poppy and we looked at the poem 'In Flanders Fields.' Year 5 agreed that it is important to remember the sacrifice of the soldiers who have fought for our country. To commemorate Remembrance Day, year 5 created a piece of poppy art work using pastels.
Anti-Bullying Week 12th November 2018
Operation Christmas Child 8th November 2018
Parishioners from the Rossington Community Baptist Church visited school yesterday in aid of Operation Christmas Child.
The children were able to buy something for £1 to be added to a box to be sent to a child who is less fortunate, they had lots of fun choosing their items. Thank you for your kind donations.
It is with great sadness that we inform you that on Friday 26th October, Father McNamee, passed away. Father McNamee was a massive part of the St Joseph's School community and Christ the King Parish. He was part of this community for such a long time and his dedication and service was phenomenal and inspiring.
On Monday 12th November, all children in school will take part in a special Liturgy to celebrate the life of Father McNamee and to remember all he did for the school and community. Parents are welcome to attend the Liturgy which will begin at 2.30pm.
We will also be producing a book of remembrance within school and the children will be remembering Father McNamee in their classes.
The arrangements for his funeral services are: On Sunday 11th November, at 7pm, a Holy Mass led by Bishop Ralph will take place followed by the Rosary for those who wish to stay. On Monday 12th November, at 12pm, Requiem Mass led by Bishop Ralph.
May Father McNamee rest in peace.
House Afternoon - Autumn (1) 2018
Mighty Zulu Nation Visit - 28th September 2018
'Today we were visited by The Zulu Nation to launch Black History Month within school. As a whole school, we got to watch an incredible performance filled with traditional dances and songs from South Africa. After play, we got to learn some of the Zulu language, and we greatly enjoyed watching the teachers participate in the dancing. After that, Year 5 and 6 got to do an additional workshop where they learned a dance and learned some traditional chants. Everyone in school agreed it was a really enjoyable experience.'
Written by Year 6 pupils
Rossington Parade Art Workshop - 27th September 2018
Today we were visited by an artist who had come to help us decorate a butterfly sculpture for the Rossington Parade. We worked in small groups to transform the outline of a butterfly into a bright and colourful piece of art. We had lots of paper tissue material, and we had to decorate the wings of the butterfly. We also created our own butterflies, which we will be able to wave, if we attend the parade. We really enjoyed using the different materials to create the butterfly collage.
Written by Year 6 pupils
Doncaster Foodbank Harvest Appeal 2018
This year St Joseph's School would like to support the Doncaster Foodbank Appeal - please see a shopping list of wanted items below.
We will be collecting donations in school from Monday 1st October 2018. A representative from Doncaster Foodbank will join us in our Harvest Mass in school Friday 5th October 2018 9.00am to receive our donations. Thank you for your support.
/ 2
/