Class Teacher: Miss Vickers Teaching Assistant: Mrs Forbes
Year 6 Reading Passport
20 BOOKS TO READ
Over the summer, each class teacher has been compiling a list of 20 books to read by the end of the year. These books are a mix of different texts, authors and text types. These can be read by the children, or read to them depending on your child's reading stage.
Children will be coming home with their own reading passport. This will show the 20 books for your child to read by the end of their class year. Over the year, the children will have the opportunity to read these books at home, and then you can sign the passport when the books have been read at home. All of the books that are on the passport are available from each class reading area, though you may have some copies at home.
After a book has been read and signed by an adult, a stamp or a sticker will be added to the passport in class to show that that book has been read. Once your child has read all of their books for the year, they will receive a certificate, a prize and their name will go onto our school Wall of Fame display.
We hope that this will help to encourage the children of St Joseph's to develop their love of reading for pleasure, and to help them to find new authors, text types and books that will spark their interest.
Happy Reading!
Class Newsletter - Autumn Term 2023
Topic Homework - Autumn Term (1) 2023
Commando Joe Mission Homework - Autumn Term
Autumn Term - What we have been up to so far....
⭐️AMAZING TOPIC HOMEWORK!⭐️
I just want to say a huge well done to Year 6 for all their Topic Homework efforts last week. I'm blown away by the quality of the work I have received back. Clearly lots of care and effort has gone in!⭐️⭐️⭐️
I hope they enjoyed having a topic work focused week!
10/11/2023
Year 6 visit to St Michael's Church Cenotaph

Year 6, along with other members of the local community, participated in a service of remembrance for all lives lost to conflict and war. They listened to prayers, readings and poetry and took part in a 2 minute silence as The Last Post was played.
EDEN CAMP
Our first trip in Year 6 completed!
The children have taken a journey back in time today and experienced what life was like in WW2.
Well done Year 6! You were superstars today!
What's this? Year 6 have only gone and broken a Year 6 record! All of them have read at least one or more books this week! They are superstars!
What a brilliant, fun-filled day we have had! Father John, Tammy and Sue couldn't praise our children enough! ⭐️
READING PLUS
Year 6 are busy trialling a programme called Reading Plus. This is a programme designed to improve fluency, reading comprehension and vocabulary. The children know there logins, and they can use this at home too!! We recommend that it be used on a screen no smaller than a tablet.



Fantastic Friday! Today Year 6 met, supported and played with their Reception buddies. We also selected some members of Year 6 to take on some important roles and responsibilities.
07/09/2023
This afternoon, we have started our new science topic: Animals including Humans. Today's lesson was all about understanding the main parts of the human circulation system and what role each of the main parts in the system do.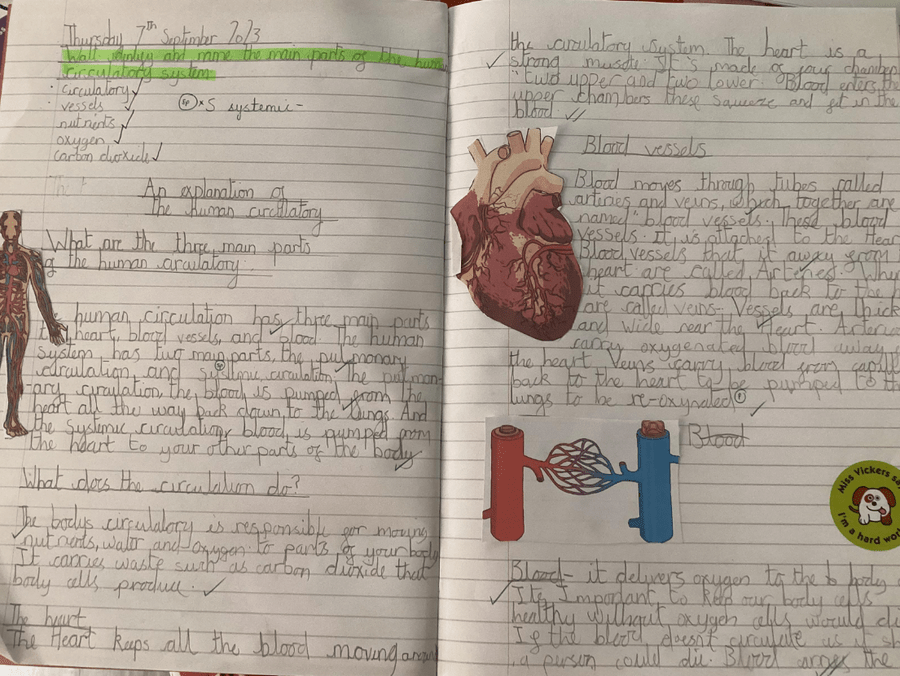 07/09/2023
We have had our first RE lesson on our new topic: Loving. Today's lesson was all about developing our understanding of unconditional love and considering ways we can show love in our actions and behaviours. We created some beautiful acrostic poems to demonstrate our understanding of these new concepts.
07/09/2023
Today, we have been getting our maths brains back into gear after the 6 week holidays. Year 6 have been working in pairs to represent numbers up to 1,000,000 using place value counters.