News and Events
We love to share our News and Events with you.
Please have a look below at some of the things we have been doing...
Sheffield Hallam University book club which ran in Autumn 2 term for 6 weeks with a number of Year 5 pupils
Holocaust Memorial Day - 25th January 2019
On Friday 25th January Pastor Eric Simpson took 6 children from St Joseph's to join him and other school children at the memorial event at Doncaster Museum. They had chance to see and hear from survivors and relatives of the Holocaust.
We are absolutely delighted that they have been recognised for their significant contribution to the Holocaust memorial event and that they have had the opportunity to learn about and preserve the memory and testimony of the Holocaust.
Thank you to our school nurse Mike Bell and our Education Welfare Officer (EWO) Julie Vaughn for joining us for the spring parents evening. During parents evening, Julie and Mike shared information to support our families and gave away resources.
If you would like any further information or support from the nursing service or regarding attendance, please refer to the school website or contact the school office.
Here is our choir practicing their beautiful singing with Mr Storey ready for the Christingle Service on Tuesday 18th at 6pm.
Converting media.
(Media will continue converting in the background)
Miss Marsden has entered our school into a competition for the fantastic opportunity to have a child's book published by a graphic designer at Sheffield Hallam University. All entries from our children must be handed into school by Monday 17th December 2018. Good luck!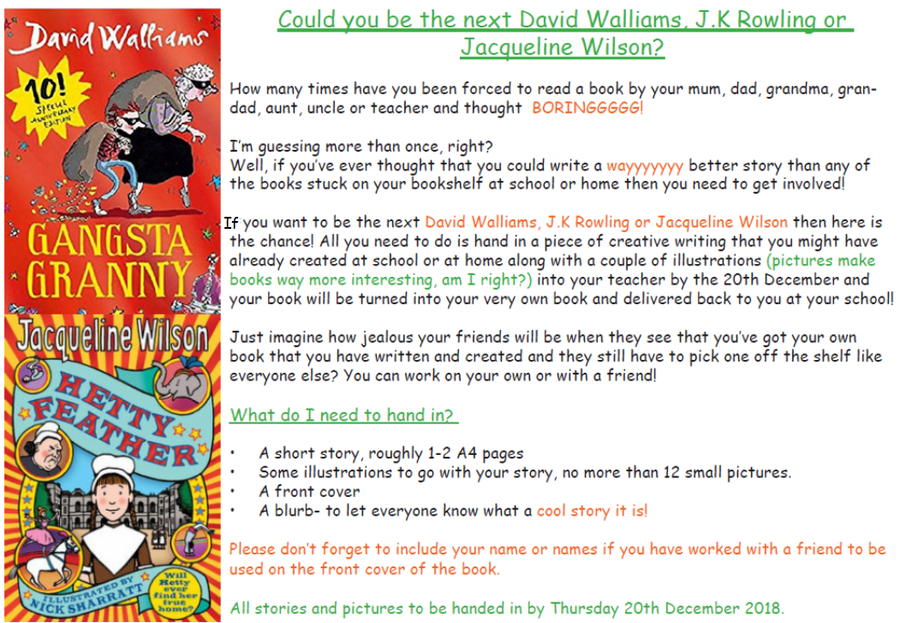 The Doncaster Family of Catholic Schools - A Celebration of Catholic Education led by The McAULEY Catholic High School and Sixth Form
Eucharist November 2018 i18 Special Edition
Reception
Reception have been learning about how poppies help us to remember. We have all created poppies in different ways.
Year 2
We have learnt about why poppies are worn to remember our fallen soldiers as well as what each part of the poppy symbolises. We then marked our respect by painting fields of poppies whilst listening to WW1 music.
Year 3
In year 3 we discussed remembrance and why the poppy is its symbol. We then used chalk pastels to create a field of poppies.
Year 5
In class, Year 5 had a discussion about the importance of Remembrance Day. We discussed the importance of the date, the symbol of the poppy and we looked at the poem 'In Flanders Fields.' Year 5 agreed that it is important to remember the sacrifice of the soldiers who have fought for our country. To commemorate Remembrance Day, year 5 created a piece of poppy art work using pastels.
Anti-Bullying Week 12th November 2018
Operation Christmas Child 8th November 2018
Parishioners from the Rossington Community Baptist Church visited school yesterday in aid of Operation Christmas Child.
The children were able to buy something for £1 to be added to a box to be sent to a child who is less fortunate, they had lots of fun choosing their items. Thank you for your kind donations.
It is with great sadness that we inform you that on Friday 26th October, Father McNamee, passed away. Father McNamee was a massive part of the St Joseph's School community and Christ the King Parish. He was part of this community for such a long time and his dedication and service was phenomenal and inspiring.
On Monday 12th November, all children in school will take part in a special Liturgy to celebrate the life of Father McNamee and to remember all he did for the school and community. Parents are welcome to attend the Liturgy which will begin at 2.30pm.
We will also be producing a book of remembrance within school and the children will be remembering Father McNamee in their classes.
The arrangements for his funeral services are: On Sunday 11th November, at 7pm, a Holy Mass led by Bishop Ralph will take place followed by the Rosary for those who wish to stay. On Monday 12th November, at 12pm, Requiem Mass led by Bishop Ralph.
May Father McNamee rest in peace.
House Afternoon - Autumn (1) 2018
Mighty Zulu Nation Visit - 28th September 2018
'Today we were visited by The Zulu Nation to launch Black History Month within school. As a whole school, we got to watch an incredible performance filled with traditional dances and songs from South Africa. After play, we got to learn some of the Zulu language, and we greatly enjoyed watching the teachers participate in the dancing. After that, Year 5 and 6 got to do an additional workshop where they learned a dance and learned some traditional chants. Everyone in school agreed it was a really enjoyable experience.'
Written by Year 6 pupils
Rossington Parade Art Workshop - 27th September 2018
Today we were visited by an artist who had come to help us decorate a butterfly sculpture for the Rossington Parade. We worked in small groups to transform the outline of a butterfly into a bright and colourful piece of art. We had lots of paper tissue material, and we had to decorate the wings of the butterfly. We also created our own butterflies, which we will be able to wave, if we attend the parade. We really enjoyed using the different materials to create the butterfly collage.
Written by Year 6 pupils
Doncaster Foodbank Harvest Appeal 2018
This year St Joseph's School would like to support the Doncaster Foodbank Appeal - please see a shopping list of wanted items below.
We will be collecting donations in school from Monday 1st October 2018. A representative from Doncaster Foodbank will join us in our Harvest Mass in school Friday 5th October 2018 9.00am to receive our donations. Thank you for your support.
/ 2
/