What's New at St Joseph's
Character Puppet Taster Session
Tesco Bags of Help Scheme
The Tesco Bags of Help Grant Scheme is now live in stores! And will run from May to June.
The bid is develop an outdoor reading area for our children, with exciting seating and storage. Reading is a key area of development for our children.
Our Reading project along with the other two successful projects is in a vote in Tesco stores where their customers will decide the outcome by voting for their favourite project each time they shop. Voting will take place from Tuesday 1st May to Saturday 30th June 2018 and we will be notified at the end of July 2018 confirming the amount of funding we will receive.
The project with the highest number of votes across our region will receive £4,000, the second placed project £2,000, and the third placed project £1,000.
Please see below a list of stores taking part in the voting project.
PLEASE help us by sharing this information with as many of your friends, family and community as possible. Please don't forget to ask for your tokens when shopping!
2028 ARMTHORPE DONCSTR EXP DN3 3DL Express
2353 BENTLEY DONCASTER EXP DN5 0AP Express
5665 BESSACARR DONCAST EXP DN4 7DA Express
2392 Doncaster DN4 8SN Extra
6823 DONCASTER BARNSLY EXP DN5 8QE Express
2418 Doncaster Edenthorpe DN3 2JE Superstores
5320 STATION RD HATFLD EXP DN7 6QD Express
5146 WENTWORTH RD DON EXP DN2 4DB Express
3407 WHEATLEY D/CASTER EXP DN2 5NH Express
May 2018 - Afternoon Activities and Changes to the Timetable
From Tuesday 8th May, St Joseph's made some changes to their curriculum and timetable.
Reading has been a big focus for us this year. The staff and governors are very aware that in the busy school timetable, we often lack time to read to the children, and to read for pleasure and fun.
We are going to be supporting the children across the school to develop their 'Love of Reading.'
The fixed playtime in the afternoon is going to be removed, and the time will be used each day to have a relaxed reading time, when the children will share a class novel and discuss this with staff and their peers.
All classes will still have the opportunity in the afternoon to have a short break.
All classes will also be taking part in a Brain Break, Brain Gym or even Dough Disco! We are also introducing prayer journaling and meditation in some classes.
We will monitor the new timetable changes and adapt the timetable over time to ensure we achieve the best outcomes and education for our children.
As the summer term progresses, we will be introducing the daily mile to all classes. Y3 and Y4 are taking part in this at the moment.
April 2018 EYFS Provision
Amazon Donation Visit
AMAZON DONATION PUTS FUN INTO SCHOOL BREAK TIME
St Joseph's Primary School has welcomed a £1,000 donation from Amazon in Doncaster.
Members of the Amazon Doncaster team visited our school to see the playground equipment which was funded by the donation.
St Joseph's received the donation as part of the "Amazon in the Community" programme whereby the company supports the communities around its operating locations across the UK.
Jawad Warraich, Senior Operations Manager with Amazon, said: "We are happy to provide St Joseph's Primary School with a donation to purchase equipment for their new playground. As members of the local community, it is very important for us to ensure young people receive a great learning experience, and this donation will help put even more fun into their break time."
Speaking on the donation, Mrs Natalie Kelly, Head Teacher at St Joseph's Primary School added: "Our school is very grateful for the donation from Amazon in Doncaster. The new equipment is a great addition to our playground, and I look forward to seeing all the smiles on our students' faces when they enjoy the fun learning space."
Fun in the Snow
EYFS had lots of fun in the snow!
Our New Mud Kitchen
There is a new addition to our outdoor area! Our very own mud kitchen. We LOVE it!
Thank you to 'Sheffield Kitchen Interiors' for the donation of the sink, and to Mr Falero for making the stand!
Over the Autumn Half Term, we had a trim trail/adventure playground built in the school playground.
Thank you to the National Lottery for funding this project!
Each class will have several allocated spaces each week when they will be able to use the trim trail. It will also be used for PE.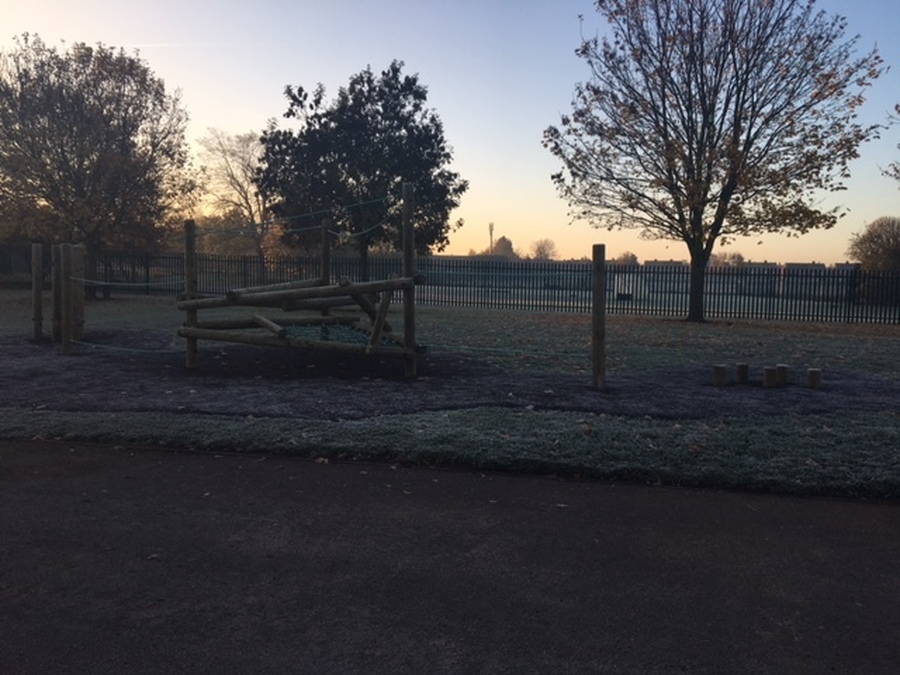 Summer - 2017
St Joseph's Nursery, Reception and Year One class underwent significant building work over the summer to transform the setting and the provision for our children. We are delighted with the results of this, and the area is now much more effectively used by the children and is more suitable for staff. We added additional facilities, such a disabled toilet and changing unit in our nursery, helping us to cater for all of our children's needs. The building work has allowed for us to offer flexible provision and additional hours for our nursery children, many of whom are now staying all day.
Before/During the Building Work...