Gospel Message
Gospel Message
23 September 2019 (by tinablack)
This week, our message is: "You cannot be slaves both of God and of money."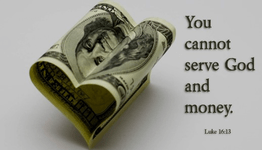 The children listened to this week's Gospel and we discussed how a steward is someone who looks after money, property or other valuable things. The steward in the story today looked after a rich man's property and money.
The children thought about the big and little things which were important to them. We discussed how this week, they could try to do what is right and to share God's love for everyone with all the people that they meet, particularly those people who seem lonely or sad.