Autumn 2021
Spring 2022
Summer 2022

Operation Christmas Child




Art-Christmas Card Competition

Science Club

Dance Club

Commando Joe Club

Ukraine non uniform day

St Joseph's Day

Story Sacks Parent Workshop

Pupil Takeover Day

Queen's Jubilee Garden Party
Queens Jubilee Garden Party - Summer Term 2022
On Friday 20th of May we held a garden party to celebrate the Queen's platinum jubilee, A huge thank you to our Year 6 who put on a special performance for us after spending the previous day learning how to jive!
Thank you to everyone who sent donations, dressed up and joined us for the afternoon. It was so lovely to have everyone together :-)
Pupil Take Over Day - Summer Term (1) 2022
On Thursday 19th May, St Joseph's hosted a Pupil Takeover Day. This was a chance for the children to become the teacher to the rest of the class – including the adults and showcase a talent or interest.
Ukraine non uniform day - Spring Term 2022
On Tuesday 8th March we held a non uniform day in support of Ukraine, raising an amazing £585.64 for the DEC Ukraine appeal.
Thank you to all families for their generosity.
St Josephs Day - Spring Term 2022
We all celebrated St. Joseph's Day in school and had a wonderful time!

All of our 'father figures' joined in our learning in the morning, such as completing a Commando Carl mission in year 3, decorating biscuits in year 1, playing board games in year 2, completing a football competition in year 5 and solving tricky maths problems in year 6!

In the afternoon, Father Henry came to lead us in a whole school mass, and he also blessed our new St. Joseph's tree in the garden for us too. Thank you very much to Mr Taylor for providing us with a beautiful cherry blossom tree, it will be wonderful to see how this grows over the years and to always think of St. Joseph when we see it.

Finally, we finished off our day with ice-creams! Thank you to everyone involved in making such a memorable day for all of our children.


Story Sacks - Spring Term 2022
Operation Christmas Child - Autumn term 2
On Thursday 11th November Pastor Eric from the Messy Church visited our school, Children were able to buy an item for £1.00 which was added to a box to be sent to a less fortunate child.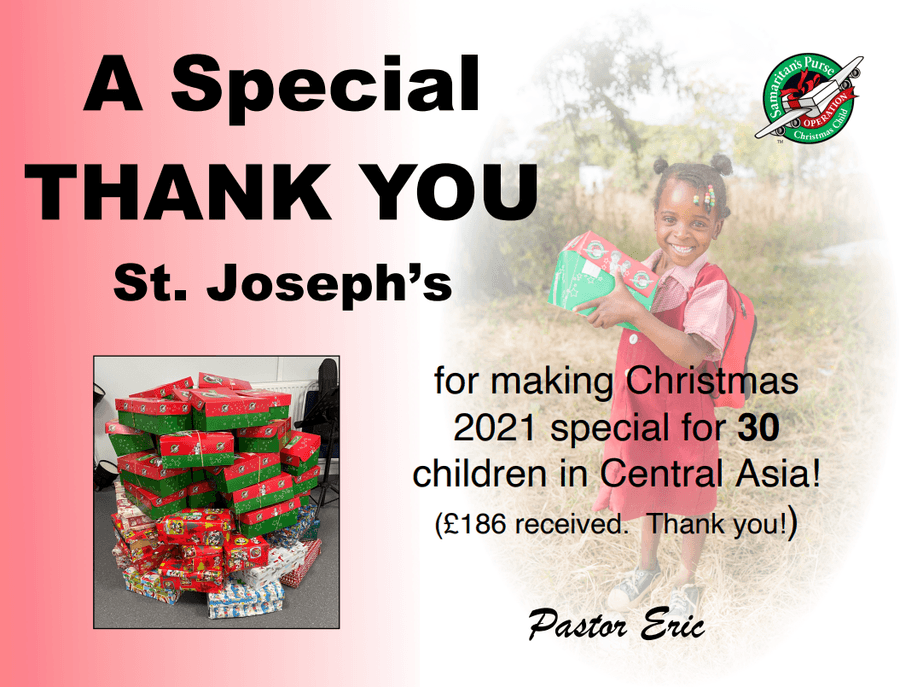 Children In Need - Autumn Term 2
On Friday 19th November, we celebrated 'Children In Need.' Thank you to everyone who entered our colouring competition and donated for our non-uniform day. Please see some of our entries for the Children in need competition below.
Christmas Card Competition - Autumn Term 2
Year One and Year Two Science Club - Autumn Term 2

In today's Science club we made bubble prints. The children made their own bubble mixture using paint, water and washing up liquid and printed the bubbles onto the paper.

The children had so much fun creating their prints.
Year One and Year Two Science Club - Autumn Term 2
Here are some photographs from science club this week. We incorporated STEM which stands for science, technology, engineering and mathematics. The children had to work in pairs to build a structure using only sweets and cocktail sticks. Everyone did a great job!